SAFE, FAST, AND EFFECTIVE ELIMINATION OF STINGING INSECTS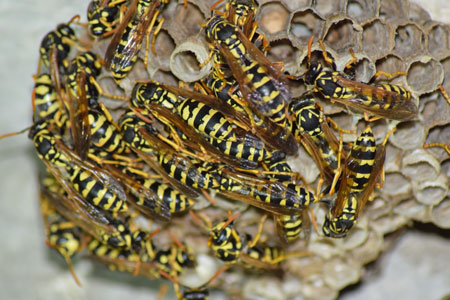 Do not take on wasps and hornets by yourself! Get professional assistance for all types of stinging insects from Independent Pest Solutions, LLC.
Two of the least aggressive wasps
Most of the calls we get about bees, are in fact wasps and hornets. Mud wasps are solitary and the least aggressive, but the messiest. Being solitary, they have no queen or hive to protect and therefore have little to no reason to be aggressive to begin with. Paper wasps are a close second, their nests are usually open celled and while they have a nest to defend and can get quite numerous, they are not nearly as bad as the next two culprits.
Top two aggressive stinging insects in Washington
The runner up bad news stinging insect in the Pacific Northwest is the yellow jacket. In ground nests, like land mines, they await the unwary to ambush and destroy them while walking in the comfort of their own yard. They also love to find small holes to get in and under siding and nest inside the wall voids or roof eaves. They are much more aggressive and usually more hidden than most. Coming in at number one worst stinging insect here in the Pacific Northwest, the bald faced hornet. Under magnification the face plate structure and color looks more like a villain from an Iron Man comic book than an insect. These are not only very cool looking but also very large, very aggressive, and pack a punch that can only be equated to being struck with a 2x4. They make large impressive ball nests.
Honey bees are only beneficial as pollinators
They are very docile and really don't bother anyone unless you directly bother them. However, they are part of the local agriculture. Urban beekeeping has increased in popularity over the past few years and as a pest control company we are very conscious of the potential negative impact that our operations could have on them if we are not constantly taking them into consideration. Honey bees are as much someone's live stock as a herd of cattle and we treat them with that same consideration and respect. We take onto account the drift of the treatments we apply, we avoid getting residual chemicals on flowering plants and always positively identify a pest before any treatment is applied to prevent any possibility of impacting pollinators.  Honey bees are a not only a niche in the local agriculture but of tremendous importance in the food production the world over.
Licensed, Bonded, and Insured
With stinging insect nests, it's important to be in a professional's hands. Things can get out of control very quickly. You'll be protected completely with our licensed, bonded, and fully insured professionals.
Knowledgeable Employees from a Local Company
Knowing what type of insect you're dealing with is a big deal with wasps and hornets. You'll have knowledgeable employees who can identify the risks and proper treatment methods promptly.
Knocked down multiple wasp nests, inspected crawl space (and brought a water leak to my attention), sprayed repellent around the outside of my house. The technician was pleasant to work with and the price was reasonable.
— Deb N.
Get the pest elimination help you need today!
Licensed, bonded, and fully insured services.
For your FREE inspection, call toll-free at 1 (866) 570-0663. In Puyallup call 253-284-4581 and in Tacoma call 253-538-0811.
Independent Pest Solutions, LLC
14611 Meridian E, Puyallup WA 98375
Toll Free: (866) 570-0663
Puyallup (253) 284-4581
Tacoma (253) 538-0811
Independent Pest Solutions