THE RODENT EXPERTISE YOU NEED
You've tried everything and the rats & mice keep coming back?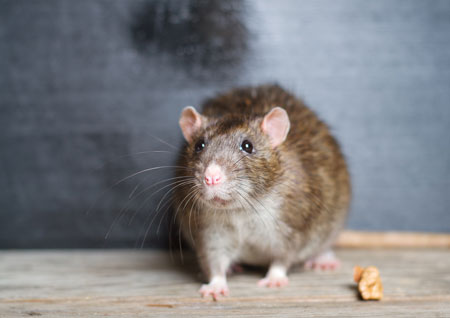 Rats and Mice Easily Spread Disease
Rodents by nature are scavengers. They can and will invade and infest any available space in which they can find harborage and food. According to the Center for Disease Control there are 15 diseases spread indirectly by rodents and 11 that are directly transmitted by rodents through physical contact with them, their feces or any other bodily fluid.
This subject deserves a book all to itself but we will focus on the two primary ones. First there is Salmonellosis more commonly referred to as Salmonella which is the name of the bacteria that causes the disease. It is spread through consuming food or water that has been contaminated with rodent feces.  Since rodents eat and drink just like us but have the habit of just going wherever they go, the likelihood of them doing it in or on your food or drink is pretty high. Even higher are the chances that they have tracked through some of their own feces while running to and from and on top of your consumables.  As if this were not enough of a public health hazard, enter Hantavirus Pulmonary Syndrome, referred to in the news simply as Hantavirus. True to the name, it is a virus spread primarily by deer mice. Not only is it more serious than a food borne illness like salmonellosis but it is spread by direct contact with urine or feces, even as minute as breathing in dust that has been contaminated with their urine or feces.
What Kind of Damage Can Rodents Cause?
Aside from the obvious health threat that rats & mice pose to people, there is also property damage. Damage in the form of both destruction and contamination. They chew through pipes and wiring, not only in homes but also in vehicles. They gnaw on wood and plastic, infest and contaminate subfloor insulation and vapor barrier under homes, as well as tunneling through the warmth of your attic space. If you think about the possible contamination rodents could do to your food stuffs in the pantry, imagine the cost of their contamination at harvesting, processing, and storing facilities before it even gets to your door. They can squeeze into and through a very small place to gain entry. This makes it difficult to keep them out unless you are trained and experienced in locating, identifying and sealing exclusion points. There are literally hundreds of millions of dollars lost to damage and contamination done by rodents annually.
A professional pest control service like Independent Pest Solutions can keep rats & mice at bay, protecting you not only financially but also the health and well-being of your family.
Improving your Home's Safety.
Rodents are a hazard in more ways than one. From bites and bacteria from their droppings, your family could be at risk. Our team has the tools to remove them safely and effectively, leaving your home a better and healthier place to live.
Locating Rats and Mice Wherever They Are.
Homes typically are full of hard to reach spots that rodents like. With our team, you'll have specialists who can access crawl spaces and other difficult to reach areas. We'll find where they live and minimize the chances of them coming back with full-service treatment that includes complete sealing of the space.
Your Crawlspace Specialists Can Permanently Remove the Following Types of Rodents:
House mice
Deer mice
Field mice
Pack rats
Roof rats
Squirrels and more
Norway rats
They were polite, clean, and thorough. They also cleaned the garage and hauled off what was infested. Their estimate was $1,000 under the other bid I got!! I would highly recommend them and definitely, rehire them.
— Maria S.
Get the pest elimination help you need today!
Licensed, bonded, and fully insured services.
For your FREE inspection, call toll-free at 1 (866) 570-0663. In Puyallup call 253-284-4581 and in Tacoma call 253-538-0811.
Independent Pest Solutions, LLC
14611 Meridian E, Puyallup WA 98375
Toll Free: (866) 570-0663
Puyallup (253) 284-4581
Tacoma (253) 538-0811
Independent Pest Solutions