PEST REMOVAL SERVICE & TECHNIQUES THAT YOU CAN TRUST.
Carpet beetles are not only a nuisance, but they also damage personal property.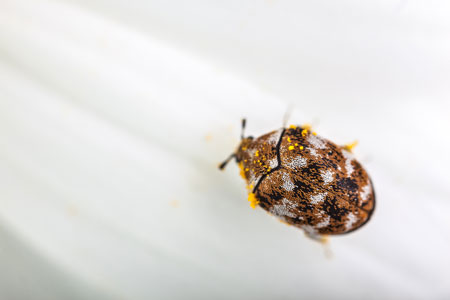 How and Where Carpet Beetle Infestations Occur
Adult carpet beetles are pollinators, spending their days outside going from flower to flower. Unfortunately, before they get to that stage, carpet beetle larvae can be a destructive force inside your home.
Carpet beetles usually end up indoors because they are attracted to plants around the exterior of your house. They can end up stumbling through an open window or get carried in on flower petals, and if they are indoors when they decide to lay their eggs, you'll have a carpet beetle infestation on your hands. Because adult carpet beetles can fly, the infestation can even spread from room to room, making the problem that much worse.
While adult carpet beetles are relatively harmless pollinators, larval carpet beetles can cause serious problems. Insect larvae need to feed to grow, and carpet beetle larvae consume anything organic, often resulting in serious property damage to leather products or even wool suits. They can also get into stored food and have a feast.
Carpet beetles are reclusive pests that prefer to live and feed in dark, hidden areas, which means that by the time you are aware of their presence, the infestation is probably already widespread. It's important that you jump on it as soon as you suspect something so it doesn't get any worse. Signs to look for are damage to upholstery, blankets, coats, or anything else with organic fibers. Larvae also like to hang out in the bodies of dead birds or rodents, as well as clumps of hair from your dog or cat.
Carpet Beetle Removal Techniques
Boric acid is the most common treatment for carpet beetle infestations, and it is usually fairly effective. However, misapplied boric acid can damage property and can even be harmful to humans and house animals, which is why many homeowners choose to have a professional perform the treatment. Not only are they highly trained in properly handling boric acid and other treatments, they are also better equipped to deal with the pests as effectively and efficiently as possible.
Highly effective integrated pest management.
With integrated pest management, you'll have precision delivered methods that work. You can be assured that the carpet beetle's life cycle will be stopped with environmentally friendly methods.
Service that sets us apart.
You'll have a local company that is invested in and connected directly to your community. Each technician is highly trained and understands the mission we have to ensure your satisfaction.
Complete management and elimination of:
Common carpet beetles
Black carpet beetles
Varied carpet beetles
Khapra beetles
Great value and customer service.
— Tanya F.
Get the pest elimination help you need today!
Licensed, bonded, and fully insured services.
For your FREE inspection, call toll-free at 1 (866) 570-0663. In Puyallup call 253-284-4581 and in Tacoma call 253-538-0811.
Independent Pest Solutions, LLC
14611 Meridian E, Puyallup WA 98375
Toll Free: (866) 570-0663
Puyallup (253) 284-4581
Tacoma (253) 538-0811
Independent Pest Solutions